"DXB GO LITTLE MAN GO"
  AQHA Buckskin Stallion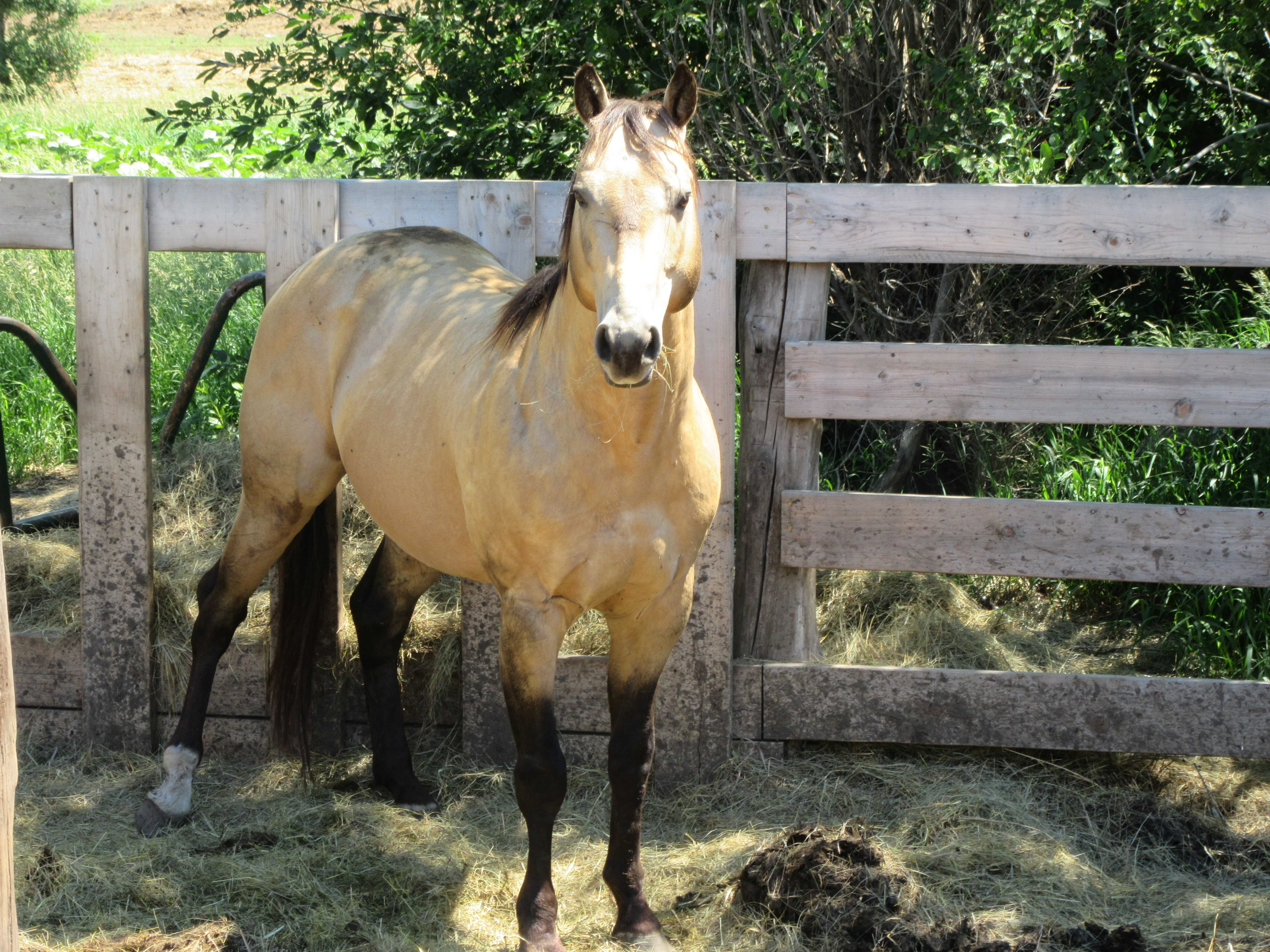 "DXB GO LITTLE MAN GO"


AQHA#5387372
Born 04-30-2011
click here for his pedigree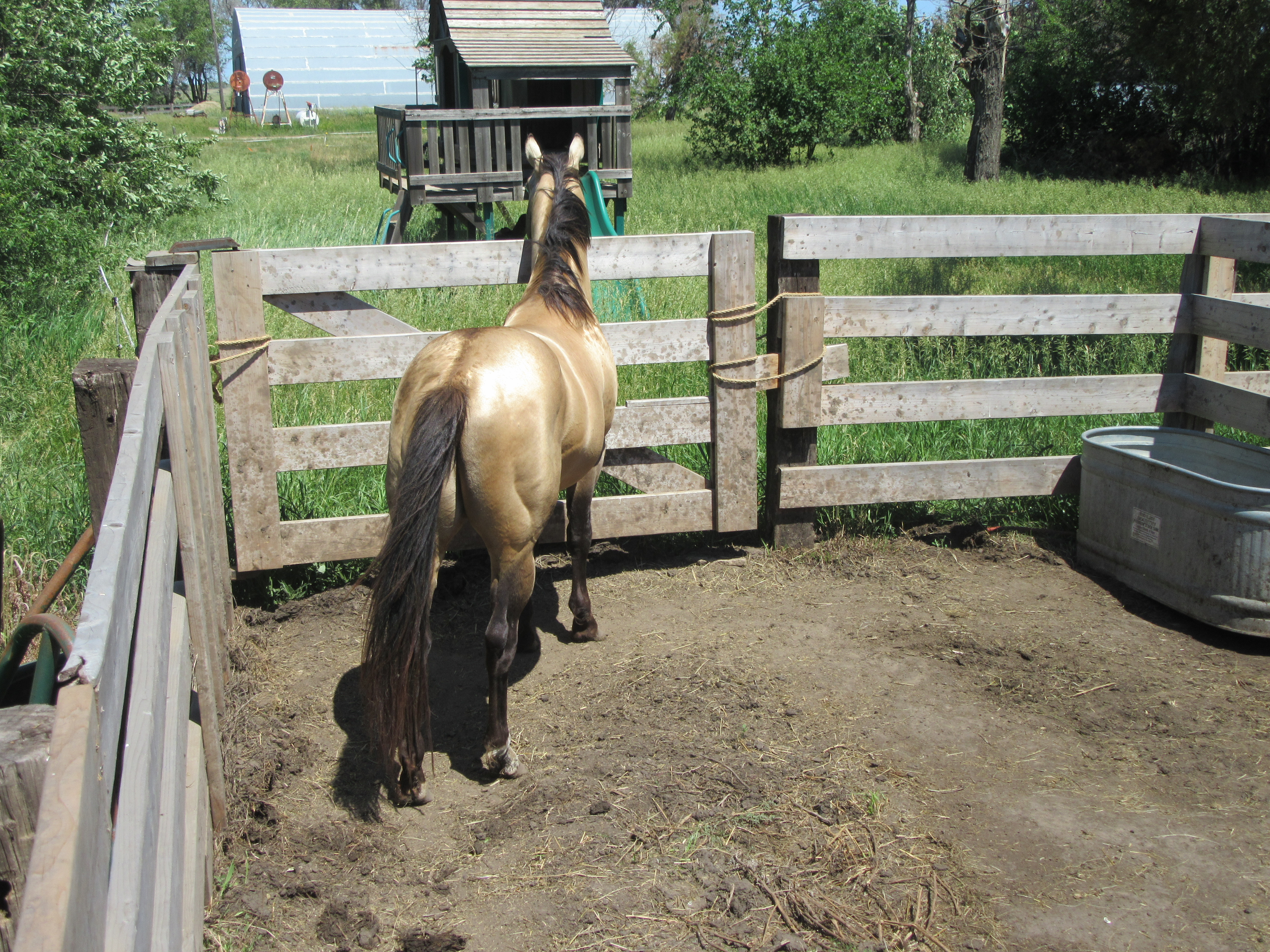 Dam: Go Seek (this is her last foal, she is retired )

Sire: Docs Golden Tigerleo
His Dam  "Go Seek", bred by the legendary horse breeder. Bearry Clarence. He was one of the first foundation breeders in SD. Special buckskin color, nice white markings. He's got a huge should. big hip and popping gaskin. His pedigree is a combination of speed and cow, perfect for roping.  This Stallion has very old foundation breeding like "Twister Jet"," Go Man Go", "Top Deck" ," Moon Deck", "Three Bars" and  Leo, Doc Bar and King on the top side.  "Go Man Go ", "Lonsum Mary" and "Jet Kan Do" still on his pedigree. "Top Deck", "Jet Deck". "Goldseeker" and "Lonsum Polcat" a son out of Leo, are just off his pedigree. 
His SireSire:
DOCS GOLDEN TIGERLEO #4645205
He is out the Foundation Quarter Horse Sire DOCS TIGER TUFF, Cutting & Performance bloodline. The Sire has 4 NCHA $ Earners on his papers 7 has been show in AQHA & NCHA (open Show) in 2003 7 AQHA Working Cow/AMT Reining in 2004.
The AQHA awarded the Sire with a bronze trophy & a Certificate of the Merit for both shows. Also in his backround is Tiger Leo. He erned 5,943.5 AQHA points insuch as halter, cutting, reining, western pleassure, hunter unde saddle, western horsemanship, trail and barrel racing.
He is the sire of 69 Register of Merits, 31 Superiors, 11 AQHA Champions and a World Champion. There is Leo one of the most influential Quarter Horses. He is claimed to have won 20 out of 22 match races.
There is Doc Bar in his blood . He was shown in halter 13 times, with 12 wins, 1 secound, 36 national points and 10 grand and reserve grands. DOC Bar sired 485 foals, who erned 2, 492 halter points and 4, 569,5 performance points, 27 AQHA Champions. While that's an impressive record, it does not truly reflect his greatness as a sire becauce many of his sons and daughters competed only in NCHA cutting, not AQHA events.
There is Poco Lena a outstanding cutting mare and the dam of Doc O'Lena and Dry Doc who is on his pedigree and is in the Stallion Show Record NCHA FUTURITY CHAMPION 71 NCHA Earnings: $85,149 NCHA HALL OF FAME AQHA Reserve W.CH. CUTTING Superior Performance, CUTTING Stallion Sire Record World Champion Sire, NCHA NCHA Get Money-earners Working Cow Horse Get Money-earners Leading Sire List Equistat Leading Performance List: #13 - Leading CUTTING Sire - Lifetime GET Earnings $3,815,501 The Dam DOCS DELTA LEE ia a granddaughter of DRY DOC,There aren't very many of rhere kind of mares left with this kind of pedigree.
Champion top side with POCO BUENO sire of Poco Lena & double breed PEPPY breeding on the bottom.
DOCS GOLDEN TIGERLEO is on of her last foals, super gentle, highly intelligent, excellent athletic ability and disposition & he pass these traits on to his offspring.
"Tiger Leo"
is also on his sire's pedigree. We are the owner of the sire "Docs Golden Tigerleo" . In the dam's bloodline is Jet Deck a racehorse 31-22-4-2, AAAT speed rating, Go Man GO 47-27-9-3 AAAT speed rating . Three Bars and Goldseeker Bars a AQHA Supreme Champion.
Top Deck
---
Take a look !!!!
Some of the closest Ancestors  of "DXB Go Little Man Go"
Top Deck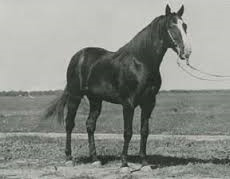 Blackjack dealers pull cards off the top of the deck.  For the players, the card could be a low card or the ace they need.  For J. B. Ferguson, Top Deck (TB) was the ace he needed to win the game.

Top Deck (TB) was foaled in 1945 on the King Ranch.  The colt was sired by Equestrian and out of River Boat, by Chicaro.  The colt boasted such ancestors as Equipoise, Man O'War and Sir Gallahad III.  Bred to run, Top Deck was unable to race due to an injury.

Robert Kleberg Jr., president of the King Ranch, either sold or gave the 2-year-old to Ernest Lane, of Odom, Texas.  No one is sure which story is true.  Either way, Lane bred Top Deck to a few mares.  One of the mares was owned by J. B. Ferguson of Wharton, Texas.  The mare, Skippy F, foaled Stardeck F, winner of the Texas Futurity and a AAA runner.

In 1952, Ferguson bred another mare to Top Deck, and the following spring, the mare foaled a roan colt.  As a yearling, Go Man Go showed great promise as a racehorse and Ferguson decided he needed Top Deck.  So in 1954, Ferguson paid $20,000 for the brown stallion.  A huge sum in those days, but Ferguson had a feeling about the Thoroughbred.

Top Deck stood at Ferguson's ranch from 1954 through 1959, and the rancher had trouble booking the stallion.  Ferguson advertised the stallion's successful offspring, Stardeck F, Amber Star and Moon Deck, all AAA offspring.  He also listed all the good AA runners by Top Deck, but it did not help.

So in 1960, Ferguson leased the stallion to A. B. Green of Purcell, Oklahoma.  Top Deck was moved to Green's ranch, where he became an overnight success.  Around 1962, Green bought half-interest in the stallion.

Top Deck sired 405 foals.  Of these, 228 earned Registers of Merit, five were world champions and earned 15 world championships.  Among the noted get of Top Deck were Go Man Go, Top Flight, Decketta, Barbara 3 and Moon Deck, sire of Jet Deck.

The stallion died in 1965 at 20.  He was inducted into the American Quarter Horse Hall of Fame in 1990.

 
---


Jet Deck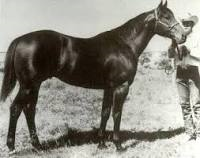 "If that's a racehorse, then I'm gonna quit the business," Bud Warren said in 1961 after looking at a thin-necked, pot-bellied bay colt.  At the time, Jet Deck did not inspire Warren, but that would all change.

Jet Deck was foaled in the spring of 1960 on William H. and James V. A. Carter's California ranch.  J. B. Chambers of Colorado bought the colt as a yearling, and it was in Chambers' barn that Warren made his statement about the colt.

As a 2-year-old, Jet Deck was put into training with Wilbur Stuchal.  It was not long before Stuchal knew he had a serious racehorse on his hands.

In his freshman year, Jet Deck was named the champion 2-year-old colt and champion stallion.  The next year, the bay was named world champion racehorse.

Warren kept track of Jet Deck's career and approached Chambers about leasing the stallion.  Chambers agreed to lease the horse, and Jet Deck arrived at Warren's Perry, Oklahoma, ranch in 1963.  Four years later, Warren bought half-interest in the bay.
Jet Deck was literally at the height of his prime as a stallion in August 1971.  Warren was in Ruidoso, New Mexico, when long-time employee Dean Schultz called to tell him that Jet Deck was dead.  He was only 11.

An autopsy found a massive overdose of barbiturates in the horse's bloodstream.  Tire tracks were found on a nearby country road and boot tracks led to and from Jet Deck's paddock.  He was such a gentle-natured stallion that it would not have taken much to convince Jet Deck you were a friend.

They mystery surrounding the stallion's death was never solved.

Some of Jet Deck's winners include Easy Jet, Jet Smooth, Jolly Jet Deck, Jet Charger, Mar Deck, Jet Royale and Tony B Deck.
"He had great conformation, great desire and determination, and the best coordination of any horse I've ever seen in my life," Stuchal said.  "As a sire, he was the greatest.  His loss to the horse breeding industry can't be evaluated."

The stallion was inducted into the American Quarter Horse Hall of Fame in 1991.

 
---
Go Man Go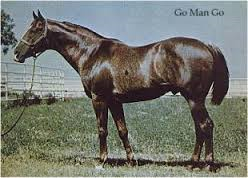 The number of wins, a horse's speed index and the dollar sign are quantitative proof of a Quarter Horse's running ability.  Go Man Go had all the right numbers, but one – an AQHA registration number.

The roan colt was foaled in 1953 on J. B. Ferguson's ranch in Wharton, Texas.  The stallion was by Top Deck (TB) and out of Lightfoot Sis, by Very Wise (TB).  Bred to run, Go Man Go's lineage included Equipoise, Man O'War, Old D J and Sir Gallahad.
Maintaining the family heritage, the roan was named the World Champion Racing American Quarter Horse in 1955, 1956 and 1957.

A. B. Green bought the stallion in 1955, and pushed for Go Man Go to be transferred from appendix to tentative registration.  The AQHA Executive Committee waited for the roan's first foals before finally giving Go Man Go registration No. 82,000.
In 1960, two things happened.  Go man Go was sold to Frank Vessels Sr. and Bill and Harriett Peckham, and the roan's first foals hit the track.  Go Man Go proved a potent sire.

The roan sired All American Futurity winners, stakes winners and racing champions.  A few of his progeny were Go Josie Go, Goetta, Duplicate Copy and Hustling Man.  He was grandsire of Kaweah Bar, Mr. Kid Charge, Real Win and Rocket Wrangler, sire of Dash For Cash.

Go Man Go died in 1982 and was inducted into the American Quarter Horse Hall of Fame in 1990.
---
Lonsum Polecat AAA
0047015; 1954; Sorrel; (
Leo
x Little Meow);
Along with John Red, Lonsum Polecat was a AAA race horse owned by Clarence Bearry, South Dakota. Polecat's dam, Little Meow produced multiple triple AAA horses and his sire, Leo, is a quarterhorse legend.
 Stallion Show Record for Lonsum Polecat
Race money-earner
ROM Performance, '56 RC
SI: 95; Race: $7,107; Wins: 5; Win Names: '56 3rd Rocky Mount. QHA Fut - $1,077; '56 2nd KS QHA Fut-$400; '56 2nd NE Fut.-$411;
Stallion Offspring Record for Lonsum Polecat
ROM Performance Offspring
Race ROM Offspring
Race Money-earners
Halter Point Earners
Performance Point Earners
AQHA Offspring Record for Lonsum Polecat
Total Points Earned: 61.5; Reg Foals: 224; Number Shown: 40; Point Earners: 5;
Halter Points Earned: 7; Halter Point Earners: 1;
Performance Points Earned: 54.5; Performance Point Earners: 7; Performance ROMS: 1;
Total ROM's: 1;
Race Earnings: $33,684; Stakes Winners: 6; 90+ ROMS: 2; 100+ ROMS: 1; Race ROMS: 6; Superior Race: 1; Race Offspring Wins: 54;
Outstanding Offspring for Lonsum Polecat
Brother Flick, si 80, 2 wins, $1,167-RC, '72 RC ROM
Leota Flick, si 95, 11 wins, $9,216-RC, '65 RC ROM
Leota Gal, si 95, 15 wins, $7,706-RC, '67 RC ROM
Sheza Devil, si 101, 10 wins, $5,742-RC, '76 Superior RC; '75 RC ROM
---
Three Bars

 
In an age of hot-blooded, hair-triggered racehorses, Three Bars' easygoing disposition was something of an anomaly. His temperament was one of the reasons he succeeded as a sire.
Walter Merrick of Oklahoma knew he'd hit the jackpot when he started breeding mares to Three Bars. He persuaded owner Sidney H. Vail to let him lease the stallion for three breeding seasons, 1952-54. Instead of breeding 12 or 15 mares a year, suddenly Three Bars was breeding 70. After the lease was up, Merrick hauled his best mares to wherever Three Bars was standing.
"I was criticized very sharply for introducing a Thoroughbred into the Quarter Horse industry," Merrick said. "Some people thought it was going to ruin the breed."
From 1945 to 1963, Three Bars sired 554 foals. His stud fee went from $100 in 1945 to $10,000 in 1963. His Thoroughbred progeny include Lena's Bar, the dam of Easy Jet; Lucky Bar, the sire of Impressive; and Rocket Bar, the grandsire of Dash For Cash.
Learn more about Three Bars and his progeny, including Doc Bar, Sugar Bars, Zippo Pat Bars and Rocket Bars in AQHA's detailed report, The Three Bars (TB) Bloodline.
Shining in the Show Ring
Three Bars' American Quarter Horse sons include:
Lightning Bar – AQHA Champion and Hall of Fame horse who sired 148 foals, including Hall of Famer Doc Bar, whose foals earned 8,894 points, nine world championships, four reserve world championships and 31 AQHA Champions. They have also earned more than $3,213,000 with the National Cutting Horse Association.
Sugar Bars – halter point earner and Hall of Fame horse whose foals earned 9,896 points. He sired 36 AQHA Champions. Sugar Bars is fourth on the all-time leading sires of AQHA Champions list, followed by his sire Three Bars (TB).
Gay Bar King – cutting money earner whose foals earned 2,729 points.
Zippo Pat Bars – Hall of Fame horse whose foals earned 113 performance Registers of Merit. One of his most famous foals, Zippo Pine Bar, was an AQHA Champion who sired foals who earned 29 world championships and more than 74,000 points.
Goldseeker Bars – AQHA Supreme Champion with foals who earned 5,580 points. He sired two world champions and two reserve world champions. Debate over permanently registering the progeny of Three Bars and other Thoroughbreds in the 1950s created a severe rift within AQHA. The "bulldog" men, some of whom helped write the original description of a Quarter Horse, grudgingly accepted the inclusion of Thoroughbred offspring after the proponents of Three Bars formed their own breed registry.
On April 6, 1968, two days shy of his 28th birthday, Three Bars died from a heart attack at Merrick's ranch in western Oklahoma, where he had returned to stand the 1967 season.

At the time of his death, he was the all-time leading sire of racing ROM qualifiers, of AAA runners and of money earners, his get having earned $2,857,781. He was inducted into the American Quarter Horse Hall of Fame in 1989.
---
Leo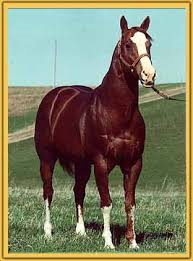 Leo, the stallion king of Bud Warren's breeding establishment at Perry, Oklahoma, topped the sire of winners list for 1952. The following year, Leo was listed as the all-time leader of AA and AAA horses combined.
Twenty-four of Leo's sons and daughter won 44 races during 1952, beating the score of his illustrious daddy, Joe Reed II, who was second with 23 winning get, and Piggin String, third with 21.
He was quite a horse, this Leo. A sorrel standing 14.3 hands, weighing 1,200 pounds and made the way a Quarter Horse should be, with good bone, a short back and a heavy gaskin and stifle. A son of Joe Reed II, and out of Little Fanny, he had running blood that went back to Traveler, Old Billy, Joe Blair, Della Moore, Fannie Richardson, Sister Fannie and Whistle Jacket. It was a rich inheritance with high-caliber performers on both sides. His first, second, third and forth dams were all track horses with notable records, as were their sires. In this respect, Leo was an impressive result of the theory Ott Adams had been preaching for years: "Breed speed to speed."
Little wonder, then, that Leo proved to be one of the fastest short horses ever fetched into Oklahoma. While owned by John W. Tillman, he won 20 match races out of 22 starts at Pawhuska, defeating such top performers as Red Sails, Johnny Barnes, Cyclone and Good Eye. Most of his running was done before the establishment of organized Quarter Horse racing, but his Pawhuska track record of 300 yards in 16 seconds flat stood for several years.
Abundantly endowed with terrific speed and magnificent conformation, Leo inherited a third ingredient that was highly regarded: good disposition. A superb gate horse, he could be handled by anyone, and after his competitive years, he was ridden around the late Gene Moore's ranch – the Rocking M at Fairfax, Oklahoma – by Gene's daughter. Speaking of Leo at that time, Gene said, "He's one of the best cow horses I have ever thrown a saddle on."
Leo was purchased in 1947 by Bud Warren, who already owned two of his get – Leota W and Flit.
"Besides being handsome 2-year-olds, they outran everything else on the place, so I decided to buy the stud that sired them," Bud said. "I wanted a real good Quarter Horse stallion."
He got one.
Leo, who was heavy-muscled and low-jointed, marked his colts well. Most of them were sorrels or bays, compact and tight-twisted – definitely Quarter type. "It's a rare exception for one to look like a Thoroughbred," Bud said.
A majority was fillies, and they were daughters a father could take pride in: fast steppers such as Mona Leta, Leota W, Leola and Miss Meyers. In 1951, Miss Leta set 2-year-old records of 17 seconds for 300 yards, and 12.2 seconds for 220 yards, neither of which were broken in 1953. She shared the 3-year-old record of a quarter mile in 22.2 seconds, along with Blob Jr., Bright Eyes and Tonto Bars Gill. Leo's most notable son up to 1953 was Robin Reed, who held the 3-year-old colt record of 18.2 seconds for 350 yards.
In three successive colt crops, Leo sired 22 Register of Merit performers. He had 28 all told. From 1948 to 1953, Leo colts won five Oklahoma futurities, two Rocky Mountain Quarter Horse Association futurities and two derbies – also a futurity and a derby in Kansas. In 1952, his colts won the get-of-sire trophy for the third time at an AQHA show in Oklahoma.
It appears that Bud Warren accomplished what he started out to do in 1947.
He bought himself a horse!
Leo died in 1967 at 27, and was inducted into the American Quarter Horse Hall of Fame in 1989. 
---
Moon Deck

Moon Deck's family is one of the fastest families of Quarter Horses to breeze into the record books. His sire, Top Deck (TB), was inducted into the American Quarter Horse Hall of Fame in 1990, his son Jet Deck earned the honor in 1991, and his grandson Easy Jet joined them in 1993.
Moon Deck was foaled at J.B. Ferguson's ranch near Wharton, Texas, March 28, 1950. He was out of Ferguson's mare Moonlight Night. Two years later, Ferguson sent him to trainer Paul Simar of Carencro, Texas. Simar put jockey Pat Castille in the saddle and Moon Deck began a racing career that would keep him in the limelight for the next five years.
Early on, Moon Deck showed he could run. His first win came at Del Rio Park in Texas on April 26, 1952, when he went 3½ furlongs in :41 4/10ths, putting some four lengths on his nearest competitor. Less than a month later, the colt ran the quarter-mile division of the Texas Futurity in San Angelo, winning easily in :22.6. Throughout the time he raced, Moon Deck went to post 62 times, winning and placing second 11 times a piece and running third in another six races. With wins in races such as the Los Alamitos Championship and the Albuquerque Derby, Moon Deck earned $22,087, this at a time when only about two dozen Quarter Horses had ever brought home more.
If Moon Deck had done nothing else notable, siring Jet Deck was enough to secure his place as one of the greatest racing sires in history. Jet Deck won 22 of 31 outs, earning $200,628 and winning 13 stakes races.
All in all, Moon Deck sired 343 foals. Of these, 261 were starters, 181 were winners, 174 were earners of racing ROMs, 20 were stakes winners, 15 earned performance points, two were racing world champions and two were AQHA Champions. His get that raced earned $1,282,145.
Moon Deck died in 1974, of a twisted intestine at the Keith-Bell Quarter Horse Ranch near Tulare, California. He was inducted into the American Quarter Horse Hall of Fame in 1996.

 
---
Question Mark
This gentle, golden stallion displayed the talent and heart of a great American Quarter Horse.
"Question Mark was so gentle, and the best thing you ever saw," said Ray Cates, whose father, J.R., bought the stallion in 1947. "He was a good-looking horse. He could run, and he had a lot of sense. You could put a little kid up on him, and he'd walk around with him – we did that a lot out in the pasture."
That pasture was on 80 acres in Tulsa, Oklahoma.
Bred by Waite Phillips and foaled in 1937 at Cimarron, New Mexico, Question Mark was by the Quarter Horse Plaudit, a son of the Thoroughbred King Plaudit, whose sire was 1898 Kentucky Derby winner Plaudit. Question Mark's dam was Pepito, a speedy Thoroughbred mare by Kenward who once held the 3/8ths-mile record at Tanforan Racetrack near San Francisco.
"As handsome a horse as I ever saw was Question Mark," wrote Bob Denhardt in the April 1957 Quarter Horse Journal. "He stood 15 hands and weighed in good flesh about 1,250 pounds. The crooked blaze on his face, running from his nose to his forehead, gave him his name. Head, neck, shoulders, middle, loin, rear quarters – all were beautifully balanced and added up to a picture horse. He had beautiful small feet and straight legs with excellent flat bone. His gaskins and forearms bespoke speed and power. The large, soft eyes showed intelligent alertness, pride and spirit."
Bob first saw Quarter Mark at the track, when Frankie Burns was saddling him for a three-horse race at Trinidad, Colorado.
"Joe Lewis, who had been burning up the short tracks, was to run a half mile against two newcomers, a palomino son of Plaudit and a lanky sorrel filly sired by Cowboy named Shue Fly," he continued. "Nobody gave the two rank outsiders much of a chance. In order to get some bets, they were taking bets at every eight pole.
"The colt we saw (Question Mark) was the smartest it had ever been my privilege to see," Bob wrote. "I told Jim (Minnick, AQHA's first inspector) such a picture horse could never run in this company. It just wasn't in the cards."
Nelson Nye picks up the story: "They were to run a half mile with a judge at each eighth pole. Golden Question Mark held the lead at the eighth; Shue Fly took over at the quarter. Somewhere between that first eighth and the quarter, Question Mark staggered, slowed up for a bit, yet came on to win. The astonishing thing is not that he lasted that full half mile but that he had the courage, the gallant heart, to overtake and pass the great Hepler mare on a broken pastern joint. The applause was tumultuous and redoubled in volume when the Trinidad crowd was told what he had done. He had to be helped into the winners circle, and when it was announced he had run his last race, more than one pair of eyes shed unashamed tears."
While the broken pastern forced him from racing, Question Mark still could walk and trot. In 1945, he was the grand champion palomino of the stock horse division at the Fort Worth stock show, where the following year he was the overall grand champion. A year later, he stood grand at Tulsa and the Denver National Western, where that same year his daughter My Question topped out as the best 2-year-old mare and grand champion stock horse mare. And that was out of only 246 foals ever registered to his credit.
"Like other truly great sires of this Quarter Horse breed, Question Mark has gotten good stock out of all kinds of mares, very few of which were top ones," wrote Nelson Nye (under the pen name Montague Rockingham) in the April 1963 Quarter Horse Journal.
Question Mark was a great broodmare sire, too. Bred to Everett Jr (TB), his daughter Savannah Gray produced two stakes winners, Savannah Cates and champion Savannah Jr, both of whom were bred by J.R. Cates. Racing in Ray's name, Savannah Jr in 1965 won the All American, Oklahoma and Sunland Fall futurities. The golden stallion, in short, had it all.
---