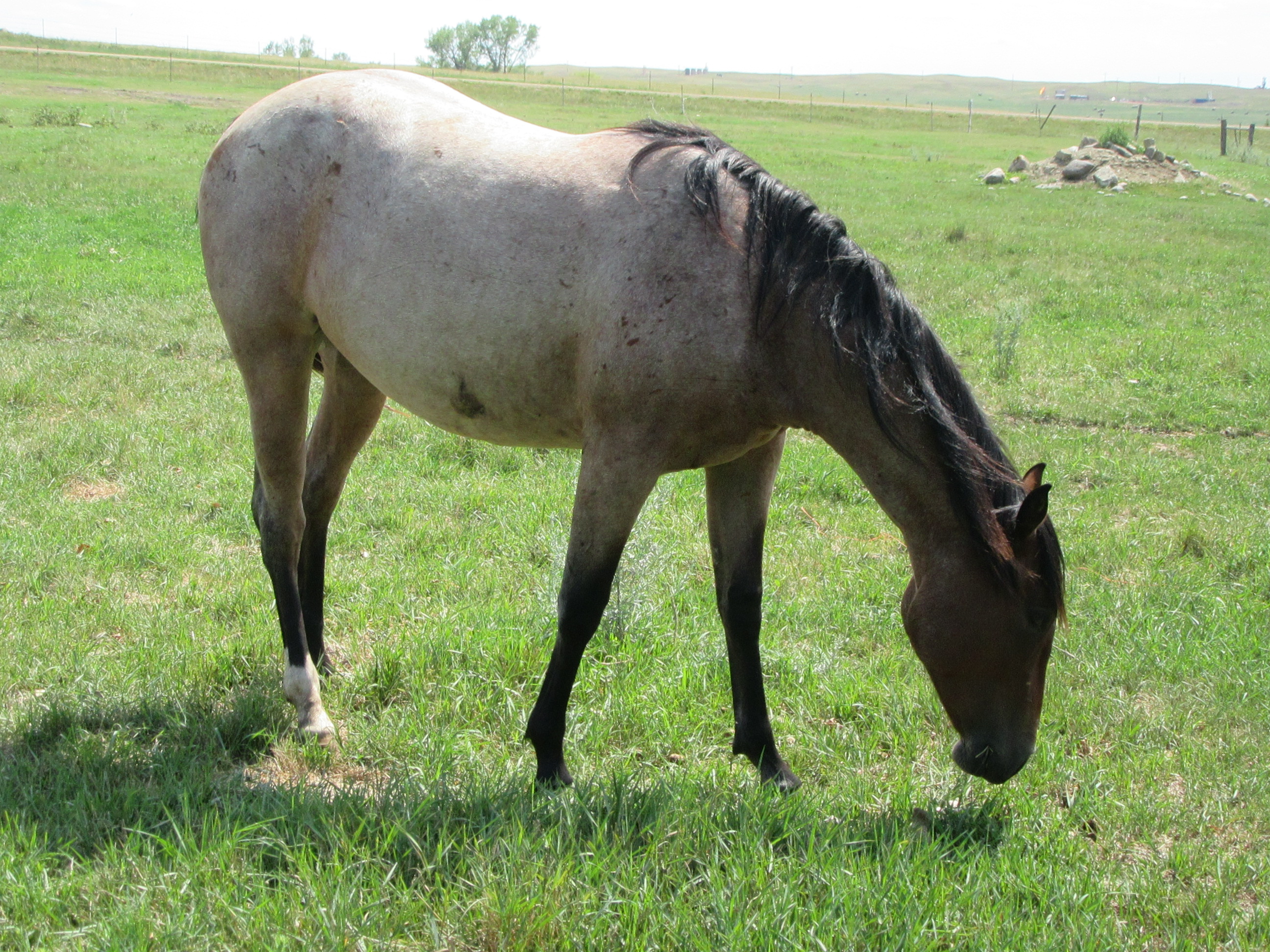 SOLD ! She will have her future in
Louisiana . 
Thank you Ashley Epperson
Witter Farms , Louisiana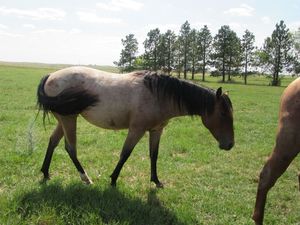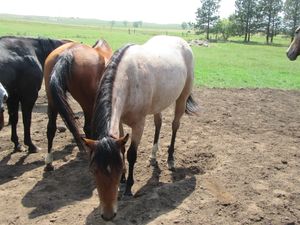 "DXB MAPIYA"

Bay Roan Mare born May 25, 2015

AQHA#5699550
 
Nice "High Rolling Roany" filly

Pedigree

She is currently in training and the price will go up !

2015 AQHA bay roan filly "DXB MAPIYA" #5699550

Sire: DXB High Rolling Sun and out of BNE Ghost Eagle.

She is smart, has perfect conformation, lot of speed and can turn on a diamond.

Her Canadian dam "BNE Ghost Eagle" is a very well build mare and goes back to Tiger Leo and King. The Dams pedigree included

"BNE Jericho Drifter" , "Blue Valentine",

"REYNOLDS BLUE SONNY"
, how is a

Multiple R.O.M. Sire, Blue roan grandson of

Sonny Reynolds, and out of a granddaughter

of Vaquero Lark Reynolds Blue Sonny is a

100% roan producer. Reynold's Blue Sonny

sired the 2004 horse of the year for Louisiana

and has a daughter in B.C. who has won

over $10,000 in barrel racing.

There is the great Red Man in his blood and

Reynolds Blue Ace

-2 AQHA Points

-Halter Point Earner,

Sabre Tiger a NCHA point earner

the famous

Go Man Go and Tiger Leo

She will be big like her sire "DXB High Rolling Sun", a grandson of "High Rolling Roany" with a amazing bloodline like "Old Tomecat", "Red Man", "Doc Bar", "King" and "Vanzi Bar" only to mention a few. For more information click here.  
Thank you
CALL: 701 - 260 - 3171
---
Sold ! He will be a future stallion in Montana !
Thank you and good luck Darlyn.
.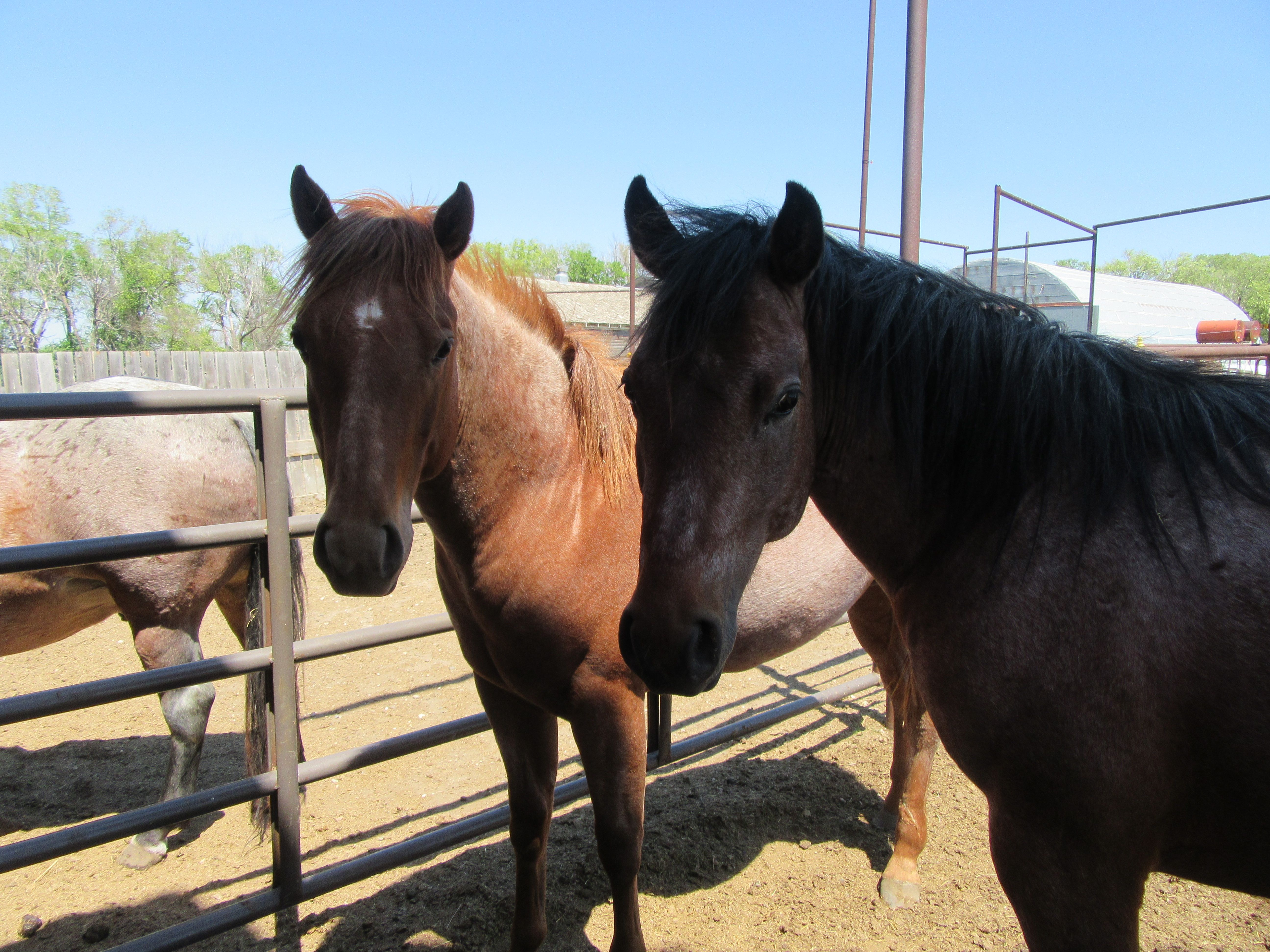 Both are registered with the AQHA.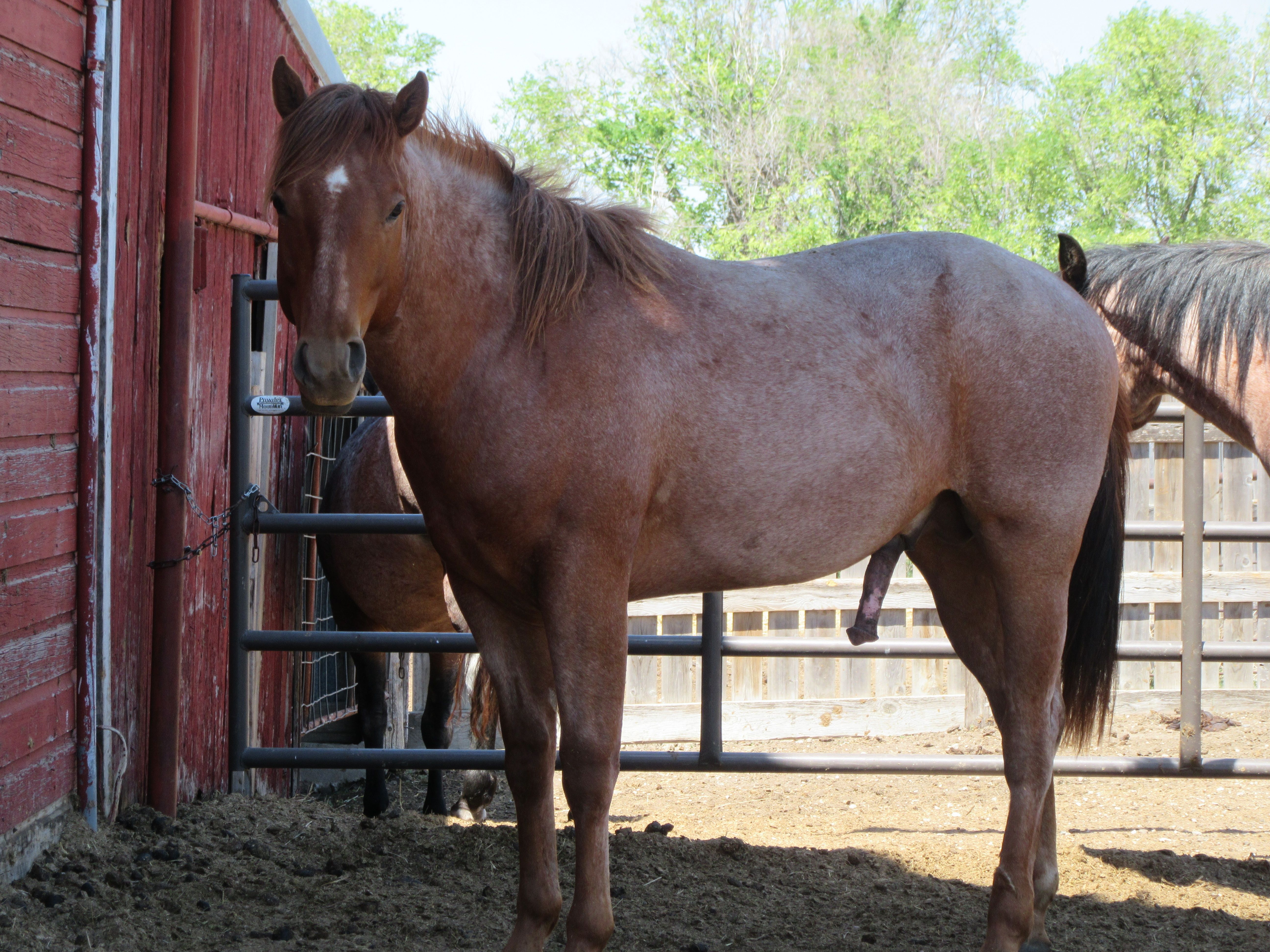 Sold ! He will be a future stallion in Montana !
Thank you and good luck Darlyn.
Very nice build with excelled conformation and a great mind.
He has a outstanding pedigree and would make a great Stallion
for someone who is looking for old foundation breeding.
He injured his hind leg when he was four month old. It do not seems to bother him
but I will not sell him as 100% sound.
Check out the pedigrees of his sire and dam.
Horses like him are hard to find.
If he do not sell until end of June 2018 - he will be gelded.
Dam :
"SKIP ROAN TANA"
CALL: 701 - 260 - 3171
--------------------------------------------------------------------------------------------------------------------------------
Sold to Alabama !
Thank you Randall !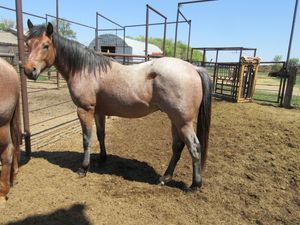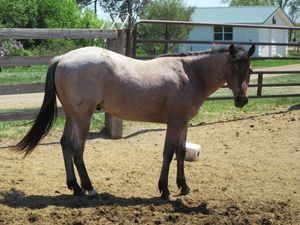 Sold to Alabama !
Thank you Randall !
 
Very nice 2016 bay roan Stud colt.
Will make a excellent roping horse one day.
Nice conformation, lot of speed and willing to work.
He will be gelded end of June 2018.
His pedigree says everything.
SOLD !!! THANK YOU TRAVIS !!!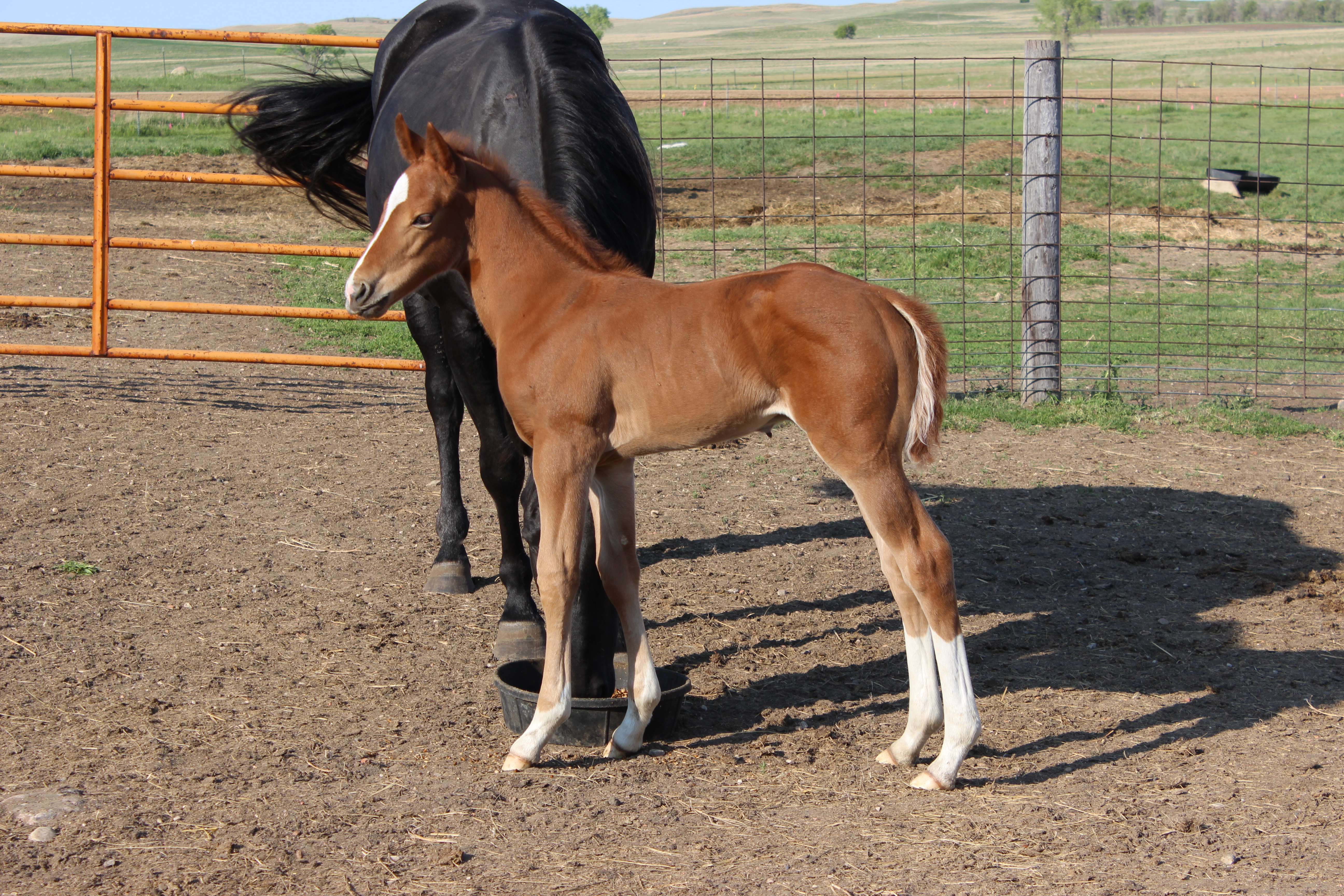 It

is

such a pleasure

to do business

with you

.
---
---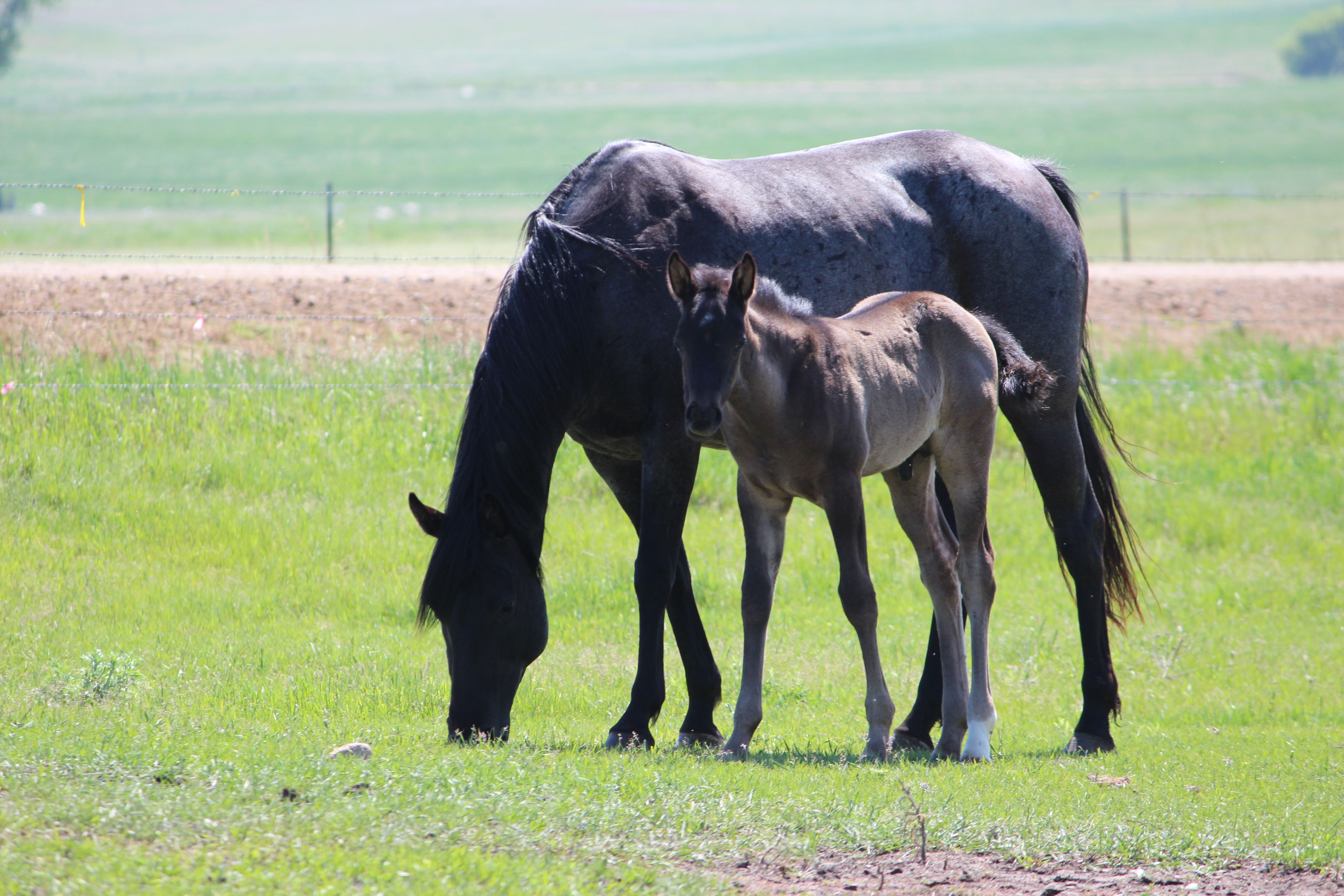 SOLD !!! THANK YOU TRAVIS !!!
 

I

'm sure

your

daughter

will be very happy

with

him

.
DAM: "DXB Miss Valentine"
AQHA 5240651
born May 17 , 2009
Rios Pedigree
 (Miss Valentine)
SIRE: "DXB HIGH ROLLING SUN"
AQHA#5280527   
born June 03.2010
Cowboys Pedigree
(High Rolling Sun)


This is one of the most beautiful stud colts you will every see. He will make a very nice future prospect and will do what ever you ask him to do. Born May 13, 2015.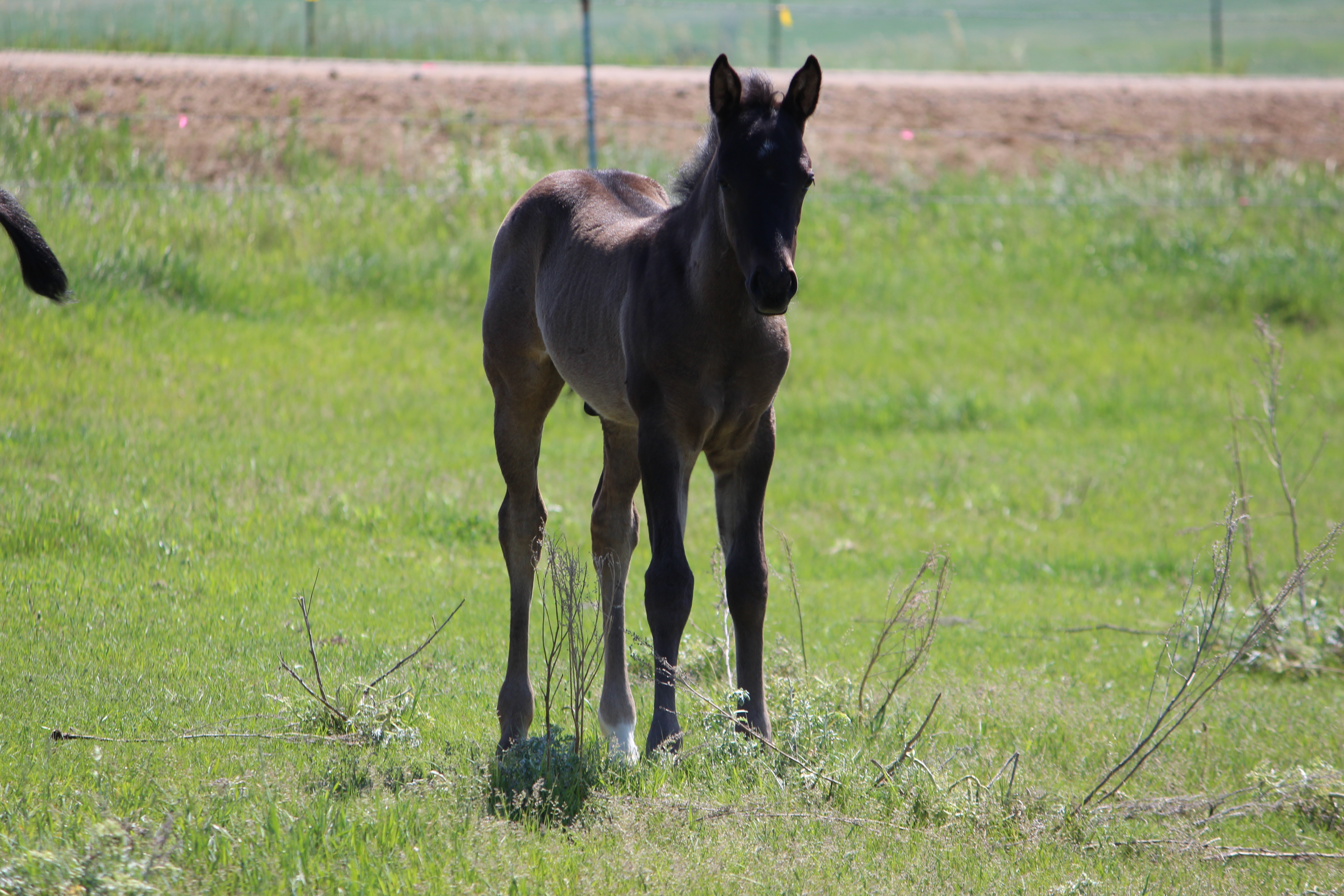 SOLD !!
Congratulations to Alana from Montana
Thank you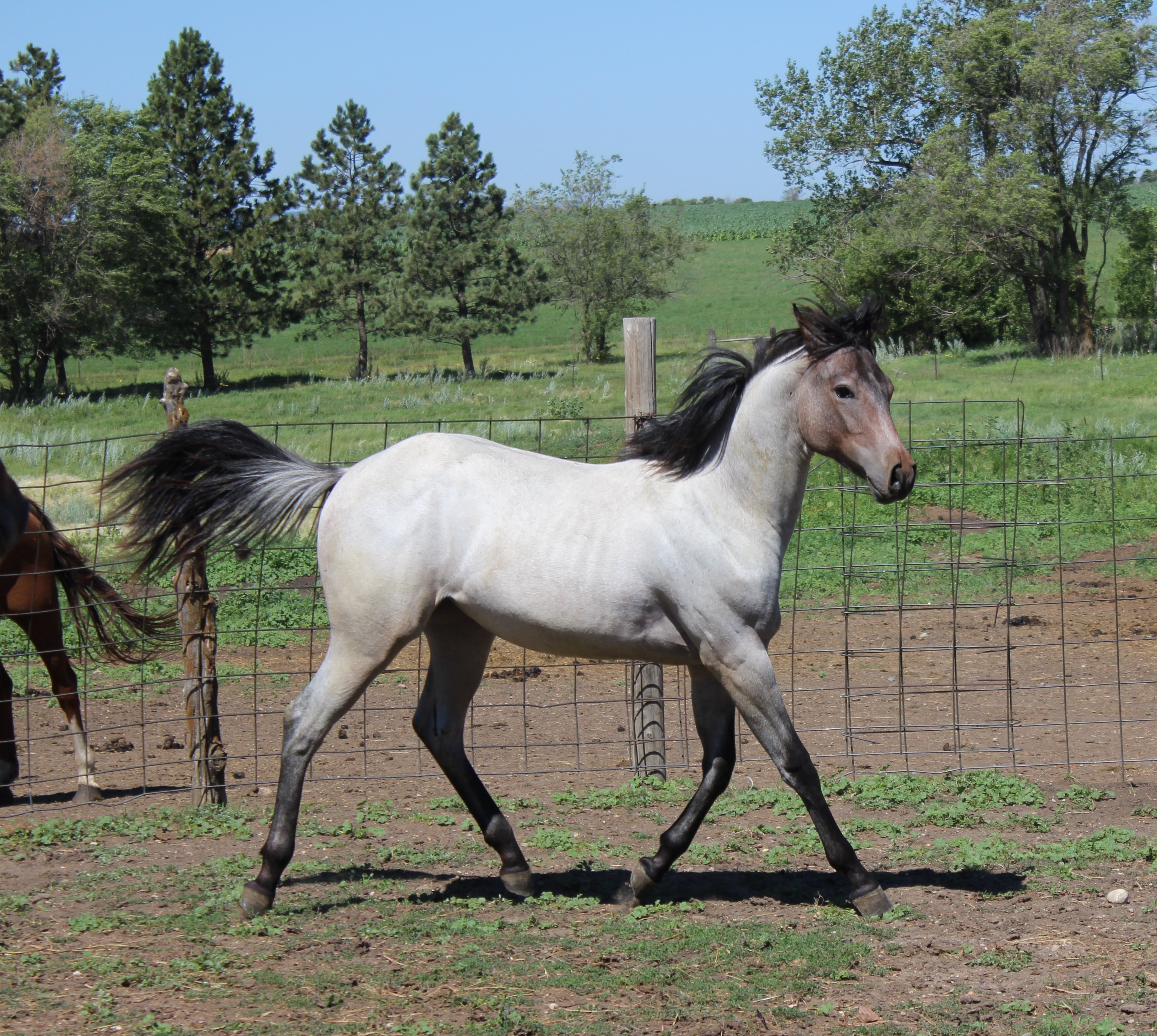 "DXB Rolling Wood"

Bay Roan Mare born May 25, 2014

AQHA#5609279
High Rolling Roany mare

click here for her Pedigree
---
SOLD !!!! He will have his future in Missouri.
Thank you Darrel and good luck !!!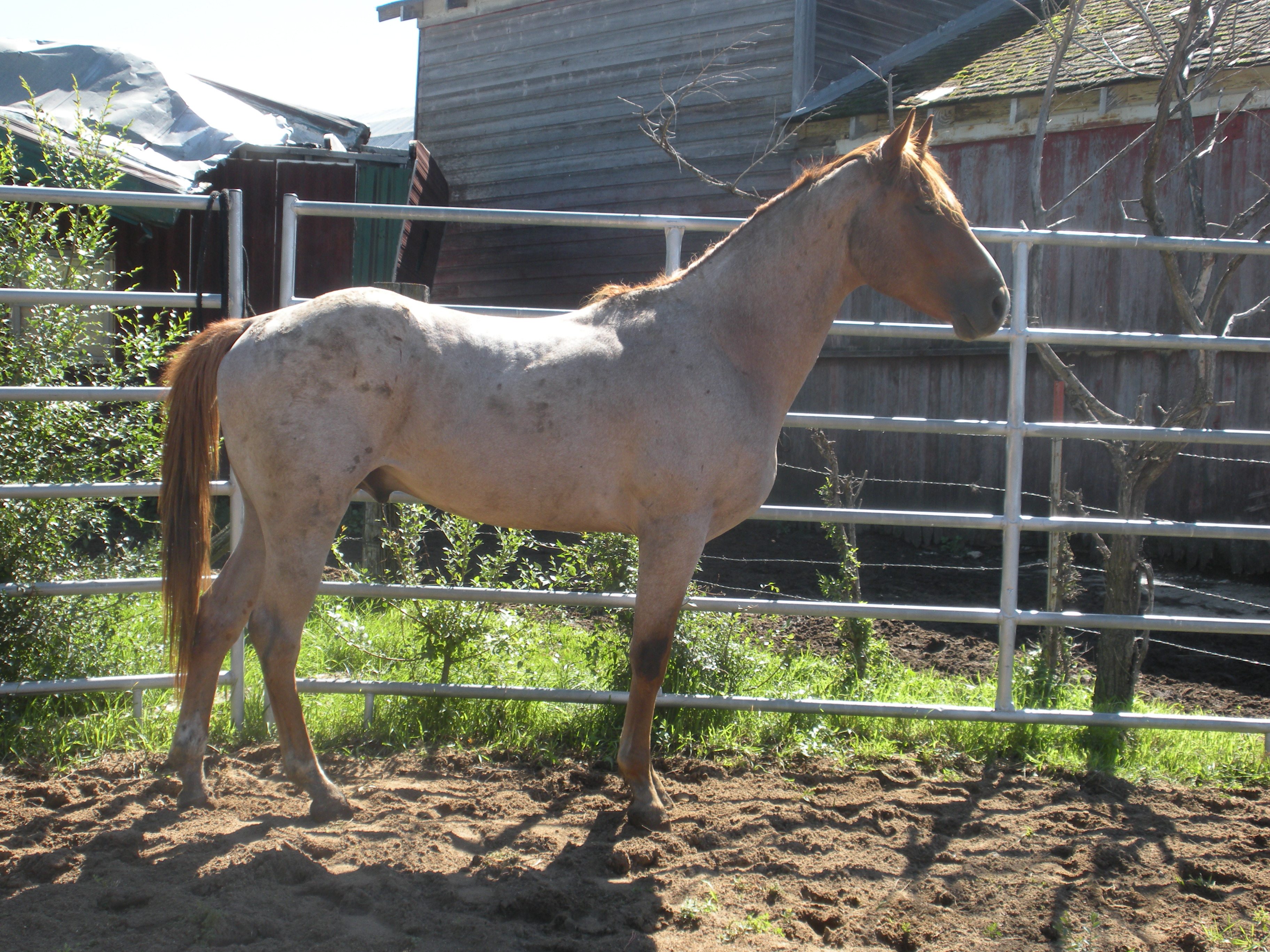 JLB Wildfire
AQHA#5421124
born October 04, 2011

Very rare opportunity to own a foundation Stallion.
His sire "GO BUDDY BLUE" past away last winter.
I own two half brothers and one half sister and they are one of
the best horses on my place. Easy to train and nice to have around.
He has a lot of speed and a lot of growing to do.
Just look at his pedigree.
Full of Foundation Bloodline
Go Man Go on top and bottom, Texas High Dasher, Blue Valentine,
Two Eyed Jack, Dash for Cash.....
He was not breeding yet.
---
SOLD !!!! He will have his future in Missouri.
Thank you Darrel and good luck !!!
"JLB FROSTY KING"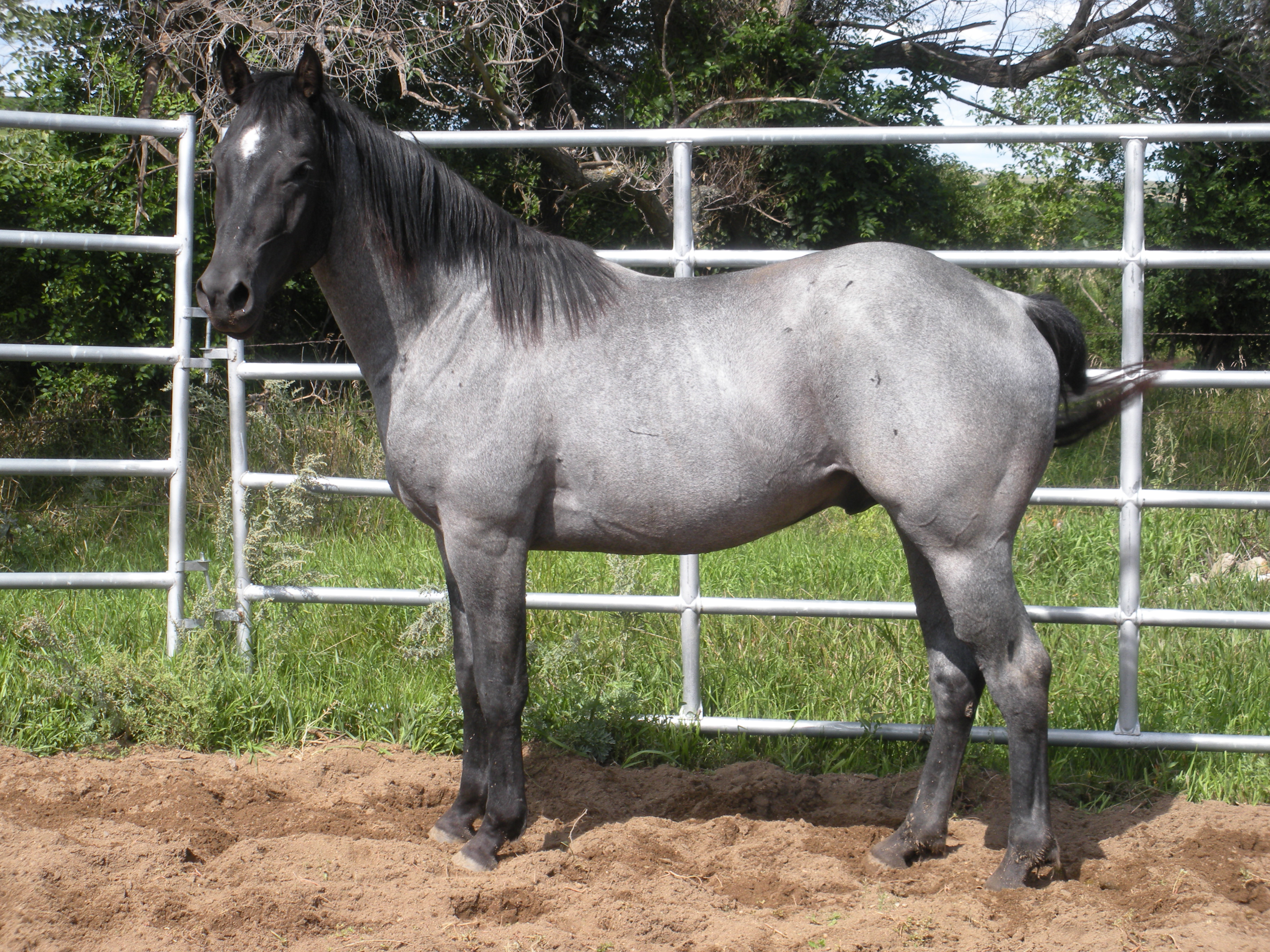 AQHA Blue Roan Stallion
"JLB FROSTY KING"
#5421125
born July 06, 2011
He is a big blue  roan American Quarter Horse Stallion, 
a grad grandson of Blue Valentine.
He has an amazing disposition and conformation.
He is a very gentle boy, quick to learn, perfect feet.
He has speed, great build and can turn on a dime!
His Sire "Go Buddy Blue", a great-grandson of "Blue Valentine"
past away in 2013. He has also "Go Man Go", "Red Man" and "Joe Hancock" in his background.
The Dam "Frostys Magic Dust" goes back to "Doc Bar" and "Diamond Apple"
Take a look at his ancestors

Did you know that one of the most famous Quarter Horses of all time almost wasn't registered? Yes, American Quarter Horse Hall of Famer Go Man Go, three-time world champion Quarter running horse and sire of foals that earned more than $7.5 million on the racetrack, almost didn't get a permanent registration number.
Foaled in 1953 by the Thoroughbred Top Deck and out of a half Thoroughbred-half Quarter Horse mare called Lightfoot Sis, Go Man Go came along at a time when there were two very distinct factions involved in the governance of AQHA – those who wanted to stick with the bulldog conformation on which the Association had been founded, and those – primarily individuals in the racing industry – who wanted to allow horses that had some Thoroughbred in their breeding.
Go Man Go received an Appendix registration number through a special rule in place at the time that allowed a foal of a Thoroughbred stallion and an Appendix mare to be registered in the Appendix registry. Those foals could, therefore, race and show in AQHA-approved contests but could not be used for breeding. Horses could advance out of the Appendix to a Tentative registration, and from Tentative to Permanent. Foals from both Tentative- and Permanent-registered horses were eligible for full registration.
Go Man Go went to the track for owner and breeder Johnny Ferguson of Texas and had an amazing freshman year, finishing the season as the 1955 world champion. When Ferguson sold him to A.
B. Green of Oklahoma, Green immediately started petitioning for the horse's advancement to the Tentative registry.
To advance out of the Appendix, a horse must have earned a Register of Merit and then be inspected for Quarter Horse conformation. Go Man Go obviously had the Register of Merit, but the inspector didn't even hesitate on turning him down on the conformation clause. He was three-quarters Thoroughbred and looked it.
Take a walk with The American Quarter Horse Racing Journal's Richard Chamberlain as he profiles some of the fastest horses in history in AQHA's Quarter Paths report.
In 1956, Go Man Go was again burning up the tracks, and his exploits had created a tremendous public interest in Quarter racing. Green again petitioned for Go Man Go's advancement, and the dilemma facing the Association's Executive Committee was whether to advance him and reap the benefits of all the positive public relations he had generated or stand firm and repudiate him on the grounds of his Thoroughbred conformation.
In October 1956, the Executive Committee, during a meeting in Albuquerque, New Mexico, went as a group to the track to look at the horse but again decided not to advance him. Then Go Man Go ended 1956 as the world champion – the second year in a row.
At the 1957 AQHA Convention, Green appealed to the AQHA Board of Directors, which passed a motion to send an inspector to again look at the horse.
In April, the Executive Committee heard from the inspector. He said that there was no way he could recommend advancing the horse to Tentative based on his conformation.
The Executive Committee members said they would wait and see what Go Man Go's first crop looked like. Go Man Go ended that year as the 1957 world champion, his third consecutive world championship.
The Go Man Go case came up three times the following year, and finally the Executive Committee granted his advancement to the Tentative registry based on the inspection of his first foals.
But what if he had never been advanced? Best I can tell, Go Man Go is in the pedigree of more than 23 world champion running horses. No wonder he's in the Hall of Fame.
SOLD Thank you Dillon and Dessa
Bay Roan Stud Colt
born 6 - 4 -2012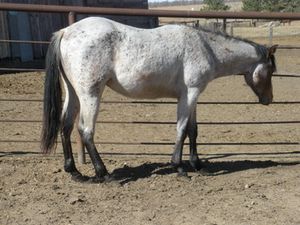 "Willow" is one of the most beautifulest and smartest foal I ever raised.
Perfect in any way.
"Blue Valentine" is just of his papers.
and goes back to Go Man Go !!!
On 12-18-1013 he is 14 hands and has a lot of growing left !!

 Registered with the AQHA
#5457880
" DXB I GET IT DONE" (Willow)
His Dam:
"Arielwood Madelyn"
a 2001 bay roan mare has a long line of Driftwood bloodline in her pedigree.
Driftwood was know as
"Speedy"
due to his ability to catch cattle with ease.
Driftwood's
diversity, ability and disposition are characteristics still coming through his generation today. The Western Horseman's Legends: Volume II quotes
Jimmy Williams,
one of the greatest stock horse and hunter - jumper trainers, as describing Driftwood foals by saying:" They are the best. you ask'em to do anything and they'll do it. They want to learn and they have the ability to do something when you' re finished with them. I thing Speedy is as good sire as there is any place"
The dam is duple breed Orphan Drift, Driftwood Ike, Laughing Boy, and War Leo.
Orphan Drift's dam has the old running bloodlines of Joe Reed II and Clabber
.
Driftwood Ike
was the result of the now "very proven"
Driftwood x Joe Hancock
cross. His dam being a grand daughter of Joe Hancock. Driftwood Ike was a very successful rope horse and a sought after sire of rope horses. He was also versatile, as they rode speed events and barrel races with him.
There is
Poco Hondo
,
his sire
Poco Dell
is a AQHA Champion and ROM Performance earner.
Pocodo Jordan
the sire of Pocodo Sally is a AQHA Champion, Supreme Halter, Dam Superior Performance and World Champion.
Snippys Cowboy
an AQHA Champion and Superior Reining/Calf Roping horse. He has earned 2003 performance points in western pleasure, reining, calf roping and team roping on the heading and heeling end. In 1981 he earned a Superior in Reining. He also has a Performance Register of Merit and 7 Grand Champions at Halter.
Out of the 260 AQHA foals he sired 57 were point earners and one was a World Champion.
Orphan Drift
was another successful rodeo roping event horse.
His Sire
" DXB GO BLUE EAGLE"
is a 2009 bay roan stallion Great-grandson of
"Blue Valentine".
Blue Valentines
have a long history of being topnotch working ranch and competitive rope horses, as well as enjoying success in barrel racing and working cow horse, and have won literally hundreds of thousands of dollars (more likely a million dollars or better) at amateur and PRCA rodeos, jackpots, and in USTRC competition. More than one good Blue Valentine has been used as a rodeo pickup horse: A demanding job that requires a courageous constitution, and the ability to turn on to get a bronc rider out of a bad way, and turn off, to stand quietly while waiting for the next rodeo competitor.
and goes back to
"Go Man Go" , 
In 47 lifetime starts, he put together a record of 27 wins, nine seconds and three thirds, with earnings of $86,151, to be leader of his day.
SOLD ! Thank you Marrilee !
SOLD ! Thank you Patrick. Have fun !
Sold ! Thank you Joe. I wish you the best
Sold ! Thank you Jay and Lorinda.
SOLD ! Thank you Jay and Lorinda.
SOLD TO MIKE FROM MONTANA. Thank you.
SOLD !!!! Thank you Hugh!
Two Foundation Mares Sold to Terry.
DXB JUST LET ME RUN Stallion Prospect SOLD